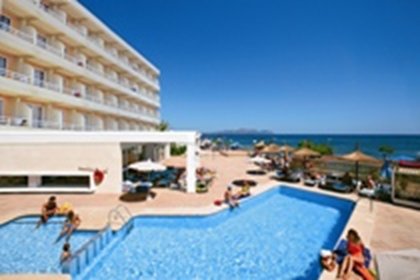 Hotel Overview
Situated in a wonderful spot that overlooks the fine sands and clear waters of the Son Baulo Beach in Alcúdia Bay, the Ferrer Concord & Spa Hotel is ideally situated for those looking for a relaxing and peaceful holiday in Majorca. The hotel is surrounded by very picturesque scenery with the green pine forests part of the natural protection area and is conveniently located just a few minutes from the marina and the centre of C'an Picafort - with plenty of shops, restaurants and bars to explore.

This luxurious 3-star hotel provides guests with a truly relaxing retreat where you can forget all your troubles. With its 142 comfortable rooms - spread over 4 floors of modern architecture - and a great selection of facilities and services available onsite to help ensure you are always comfortable, the Ferrer Concord & Spa Hotel will not disappoint. Guests can enjoy a variety of leisure facilities during their stay: with a large outdoor pool set in large well-tended grounds, a range of activities to try - including beach volleyball, water aerobics, darts and petanque. You can also indulge yourself and unwind with the hotel's wonderful spa facilities including a sauna, hot tub and gym, or if that isn't enough guests have access to the nearby Ferrer Vital Spa with even more treatments and services.

There is also free Wi-Fi internet available throughout the hotel and for any additional assistance the friendly and professional staff will be happy to help, along with a 24-hour front desk that can also help with car hire and bicycle hire.

##Location
Situated near C'an Picafort you will find you are surrounded by fine sandy beaches and lush green forests with the Son Real Nature Reserve just a few minutes' walk away - perfect for some relaxing outdoor activities such as horse riding, hiking and cycling providing great opportunities to admire the beauty of the area. The extensive Muro Beach also provides a great way to relax and make the most of the wonderful Spanish sun and if you are feeling a bit more active there is plenty of water sports available nearby to try. You can find the centre of Can Picafort just 1km away too, with all the shops, restaurants and bars providing plenty of entertainment for a truly enjoyable holiday.

##Accomodation
The 142 well-furnished and spacious rooms offer some fantastic views over the ocean and can comfortable accommodate up to 3 adults or 2 adults and 1 child. All of the rooms are well-equipped with all the amenities needed for a comfortable stay including: air conditioning – satellite TV – telephone – wireless internet – safe – telephone – en suite bathroom – hair dryer.

##Eating and Drinking
The hotel has a restaurant serving breakfast, continental breakfast (late), lunch and dinner served buffet style along with special features such as show cooking.

There is also a bar open all day serving a selection of refreshments including snacks, ice cream, cakes and coffee along with a wide variety of alcoholic drinks and cocktails.

A 24-hour room service is also available.

The hotel features an excellent All Inclusive option that includes buffet meals served at the following times:

Breakfast: 7.45am to 10.15am.
Lunch: 1am to 3pm.
Dinner: 6pm to 9pm.

Additionally:

Cold buffet: 9pm to midnight.
Snacks: 24hrs
Ice cream: 24hrs
Coffee and cake: 24hrs

Drinks at 24hr bar: 10am to 12am (alcoholic)

Guests also receive:

A EVENING THEMATIC MEAL SERVED ON TABLE PER PERSON PER STAY
...For stays of minimum one week
…Depending on the availability

.. Advantages in the Ferrer Vital Spa:
…free entrance during all your stay to the Spa area
….free per room and per stay:
1 Cleopatra Bath
1 Foot Bath with relaxing essential oils
…25% discount in all beauty and health treatments.
…all these offers are depending on the availability.

.. ROUND OF THE FERRER HOUSE
..All clients of the Ferrer Concord with All Inclusive Gold 24 have the following possibilities:
.. Use of the pool area, gym and all the other facilities and services of the Ferrer Janeiro
.. eat and drinks in the dining room and bar of the Ferrer Janeiro (depending on opening hours and availability)
.. These possibilities are also valid for the Ferrer Maristany **** Pto Alcudia
.. All mentioned possibilities are depending on availability.

##Swimming Pools
There is an outdoor pool at the hotel, perfect for taking a refreshing dip or making the most of the sun with the free parasols and loungers. There is also a pool bar open all day for a variety of snacks and refreshments to keep you going.