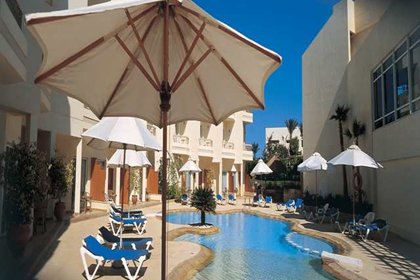 Hotel Overview
Book the beautiful Hilton Sharks Bay Resort in Sham El Sheikh and experience a family All Inclusive holiday of a life time.  Hilton Sharks Bay Resort is ideally located on the southern tip of Sharm El Sheikh in the beautiful area of Sharks Bay. The majority of the rooms overlook either the pool or the clear blue waters of the Red Sea with the magnificent coral reefs that lie nearby. The Hilton Sharks Bay features a huge array of leisure facilities, sumptuous dining opportunities and is close to one of the best diving centres in the region. The official rating of this hotel is 4*. The airport is just a 10 minute drive away. 
Please note: Rates and conditions are not valid for Egyptian passport holders.
Please note: Hilton Sharks Bay will temporarily be limiting its operation to Hilton Sharks Bay Deluxe side .
Please note: The ratings and conditions are valid for all countries except Egyptian. FACILITIES:Food, Drink and Entertainment: Main Restaurant with Live Cooking, Italian Restaurant, Pool Bar, Beach Bar, Lobby Lounge, Sunset Snack Bar, Chill Out Bar/Disco, Cafe Chino. Please note Gala Dinner is compulsory for stays on 31 December. The Sun Set Bar (on the Hilton Sharks Bay beach side) will be available daily to all guests spending time at the beach.
Sport, Games and Activities: Swimming Pool, Tennis Courts, Fitness 6 Beauty Centre (treatments available), squash, Scuba Diving, Beach Volleyball, Billiards, Table Tennis.
For the Kids: Children's Swimming Pool, Child Care Centre with Activities, Playground and Babysitting Service.
Additional: Florist, Gift Shop, News Stand, Laundry/Valet Service, Barber Shop, Tour Desk and Business Centre.