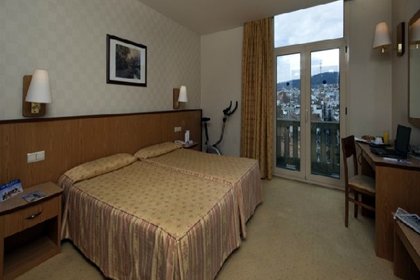 Hotel Overview
The HCC Covadonga Hotel enjoys a fabulous location on the main Avenida Diagonal only minutes away from Santes AVE Station in the commercial and business district of Barcelona. Close to Plaza Catalunya square, guests are fortunate enough to have everything needed to enjoy a visit to Barcelona on the doorstep or within easy reach whether the visit is for business or pleasure. Nearby a fine array of good restaurants, shopping, cafes, lively bars and nightlife is easily accessed. Offering great value for money a range of services, facilities and amenities in a warm friendly atmosphere the 3 Star HCC Covadonga Hotel is the ideal place for your next booking in Barcelona!
Getting to the Hotel: This Avenida Diagonal hotel provides easy access to the city's airports and to the motorways to Madrid, France and the Mediterranean coastline. Barcelona Airport is 10 km from the hotel.
Local Tips: Be sure to visit the Arc de Triomf – built to commemorate and frame the entrance to the first Universal Exhibition in 1888 and designed by Josep Vilaseca I Casanovas.
Experience perfect harmony with classic and modern amenities at this Barcelona City Hotel!
A city tax of 0.75 Euro per person per night is applicable and to be paid in cash locally.
HB-69 FACILITIES:Dining: The hotel is booked as Room Only accommodation with an option for Bed and Breakfast upgrade. Guests of the HCC Covadonga Hotel enjoy a delicious breakfast before leaving for a long day of tourist activities. Throughout the day snacks and light meals are served from the café/bar. Drinks are served throughout the day/evening from the bar. Nightly entertainment is easily accessible nearby in the city.
Activities: Sporting amenities/activities are available nearby for rental/hire including sailing, boating, fishing, canoeing, water sports, cycling, tennis, football, squash, golf and walking.
Additional: 24 hour reception, currency exchange, safety deposit box, 2 meeting rooms, room service, housekeeping, disabled access, parking on site, laundry room, Internet access, air conditioned public spaces, tourist information service.