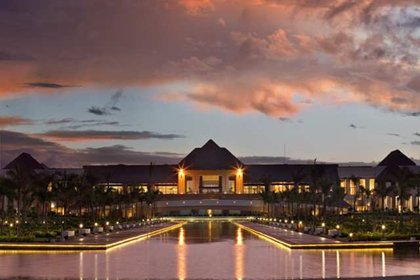 Hotel Overview
Guests looking for deluxe, all-inclusive accommodation with outstanding business and leisure facilities can book a stay at the five-star Hard Rock Hotel & Casino, which is in the prestigious Dominican Republic resort of Punta Cana. It offers convenient access to a superb sandy beach, and is within easy reach of boutiques and nightlife venues, as well as the resort's international airport. FACILITIES:The Hard Rock Hotel & Casino has a choice of outdoor swimming pools, plenty of space to sunbathe, and a wide variety of leisure facilities to keep guests entertained. The hotel also has a fully equipped fitness centre, serves delicious, freshly prepared breakfasts, lunches and meals, offers a wide choice of drinks and snacks, provides wired and wireless internet access free of charge, a fully equipped business centre, and excellent conference facilities.
SPECIAL OFFERS:A maximum of $3.600 Limitless Resort Credit per room/per stay.Resort Credit Reference Chart5-6 Nights - 1500 USD 7-8 Nights - 1800 USD9-11 Nights - 2000 USD12 Nights - 2500 USD14 Nights - 3600 USDThe Limitless Resort Credit can be used towards golf, spa and beauty, tours and adventures, upgraded wine selection, selected photo packages at rock shots®, take away products, The Colin Cowie Weddings Collection™. Service Fee applies.
Applicable Resort Credit depends on length of stay and is applied per room/per stay.
Terms and conditions apply.