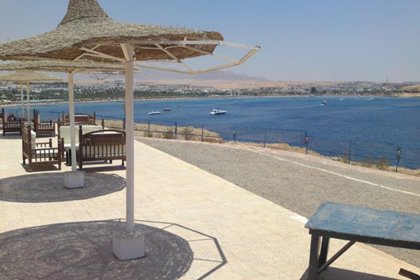 Hotel Overview
The Halomy Hotel, Sharm El Sheikh, boasts a panoramic cliff-top setting with breath-taking views of Naama Bay. The Halomy Hotel has an excellent range of facilities including a private coral reef and a spectacular Sound-and-Light show.
Getting to the hotel: The hotel is approximately 12 km from Sharm El Sheikh airport.
Local Tips: The Halomy Hotel is less than 2 km from the centre of Naama Bay and Sharm El Sheikh traditional market ? well worth a visit.
This property is not suitable for clients with walking difficulties
 
Please note: Rates and conditions are not valid for Egyptian passport holders. FACILITIES:This resort offers superb diving and snorkling opportunities and this hotel has its own private coral reef for guests.
Food, drink and entertainment: buffet style main restaurant (breakfast, lunch and dinner) with terrace and panoramic views of Naama Bay, main bar, beach bar (11:00-17:00), Pharoah market, bazaar, Bedouin tent, Oriental cafe with Sheesha pipes, internet cafe (extra charge) and an entertainment programme (including Sound-and-Light show).
Sport, games and activities: large outdoor free-form swimming pool (for adults and children), beach access via steps from the hotel, private coral reef, excellent snorkeling, diving centre (local charge), massage (extra charge), free deck-chairs, table tennis.