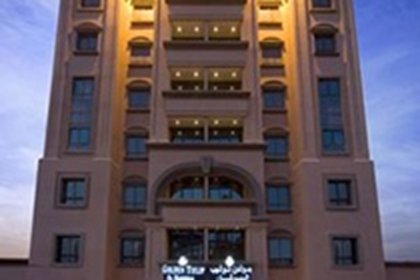 Hotel Overview
Situated in an excellent central location within Dubai, the Golden Tulip is very close to some of the best leisure and business attractions within the city. The hotel is just a few minutes away from the renowned Mall of Emirates, one of the world's most impressive shopping malls, close to the Ski Dubai and just 10 minutes from the beach.

This newly built and stylish 4-star hotel offers some of the best accommodation in the city with its 135 spacious and well-appointed guestrooms and helps to ensure guests are always comfortable and relaxed with its excellent range of facilities that cater to both leisure and business guests. The hotel has a full-service health and spa centre if you need to unwind and pamper yourself with a steam room, sauna and spa tub and other great leisure facilities at the hotel include an outdoor pool and a fitness centre to help you keep fit and active. In addition to the leisure facilities the hotel offers all the business and event services you need with 2 dedicated meeting rooms, a spacious ballroom, business centre, limo/car town service and the professional and helpful team of staff that can provide all the event catering you need for the perfect event. Additional facilities available at the hotel include gift/souvenir shops, a café/coffee shop, a nightclub and a 24-hour front desk that can assist you with useful services including car hire, laundry/dry cleaning, currency exchange and a ticket service for attractions around the city.

##Location
Dubai is an impressive and modern city, the 2nd largest after Abu Dhabi in the United Arab Emirates, which attracts many tourists from all over the world and is often referred to as the shopping capital of the Middle East. The city has countless shops, boutique stores and over 70 shopping malls including the 7th largest one in the world where most shops and outlets consider friendly negotiation of prices a way of life.

The city also has many famous and impressive landmarks such as the Al Fahidi Fort, built in 1799 and one of the oldest standing buildings in the city to the impressive modern architecture of buildings like the Dubai World Trade Centre and the Deira Clock Tower are both important landmarks within the city.

There are pleasant green areas to enjoy too with a number of large parks as well as great family entertainment with amusement and water parks and you can always visit the famous Jumeirah Beach resort with its fine sands, blue seas, water sports and many restaurants along many more attractions to enjoy.

##Accomodation
The hotel features a total of 125 well-furnished and spacious rooms with a variety of accommodation including 105 standard rooms, 10 deluxe rooms and the 10 luxurious flamingo suites; non-smoking rooms are also available on request.
All the rooms are well-equipped with a selection of amenities and comforts including: air conditioning – satellite TV – minibar – coffee/tea maker – high-speed internet – desk – clock/radio – telephone – private bathroom – shower/bath – hair dryer – complimentary toiletries.

##Eating and Drinking
The hotel has 2 restaurants with the Bamboo serving Chinese cuisine and Cantonese delicacies; it is open daily for dinner only from 6pm till midnight. There is also the Tandoor Brassiere, which is open for breakfast, lunch and dinner; it serves a rich breakfast buffet and a lunch and dinner can be either "a la carte" from the menu or buffet style with mouth-watering Indian dishes served for dinner.

For a great place to relax with friends or family there is the Locker Room Sports Bar, open from 1pm till 1am it is the best place to watch live sporting events with 7 huge LCD TVs and also features a weekly quiz, complimented by the wide selection of drinks available.

##Swimming Pools
There is an outdoor swimming pool located on the roof of the hotel, surrounded by plenty of loungers and parasols and a pool bar near by serving welcome refreshments and snacks throughout the day.