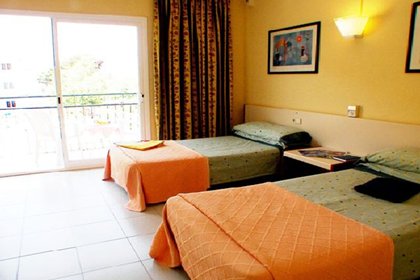 Hotel Overview
A warm welcome always awaits you at the Hotel Gabarda & Gil.  Situated at approximately 350 metres (3 min walk) from the main award-winning Palma Nova beaches on the island paradise of Mallorca.  Surrounded by bars, restaurants and shops the Gabarda & Gil is just a 20 minute walk from the lively resort of Magalluf where the night life is vibrant.  Small and friendly, this family owned hotel complex gives great value for money where the emphasis is on the personal touch and superb service to give you a guaranteed home from home experience on a sunshine holiday.  Ideal for couples and groups, the Gabarda & Gil prides itself on a high percentage of clients that return year after year. Whether you are looking for fun-filled excitement or laid back relaxation Palma Nova has everything to offer, and the Hotel Gabarda & Gil is right there.
The Gabarda & Gil is not recommended for families with young children or people with walking difficulties as there are no lifts
Please note that this accommodation consists of two buildings, the Gil and the Gabarda. All facilities are located in the Gabarda, however the rooms are split between the two complexes which are across the road from each other.
 
Location: The bus stop is 200 m from the hotel door. Palma Airport is approx 20km (a 20 minute drive) and Palma City centre is approx 14km.
 
Local tips: Palma Nova hosts a variety of amenities for sports such as diving, gyms, tennis, football and rugby. Nearby are many attractions such as water parks, mini golf & dinner shows. FACILITIES:Food, drink and entertainment: Breakfast is included and is served in the main building of the Hotel Gabarda. Breakfast is always freshly made individually and served either on the pool-side terrace or in the lounge bar.  Served until l1 o'clock, guests have a choice of the Gabarda's famous full English, continental style or cereals with fresh fruit.  The complex has a 24 hour lounge bar serving hot and cold meals.
 
Sports, games and activities: Swimming pool, pool-side snack bar, jacuzzi & pool at the sister hotel.  Sun terraces, video games, internet and pool tables.  Clients of the Gabarda & Gil can also enjoy the facilities of the sister hotel Martinez Apartments.
 
Additional:  24 hour reception located in the Gabarda with English-speaking staff.  24 hour money exchange, Internet access, Free WiFi in public areas, Safety deposit box rental, excursion booking & car/moped hire.