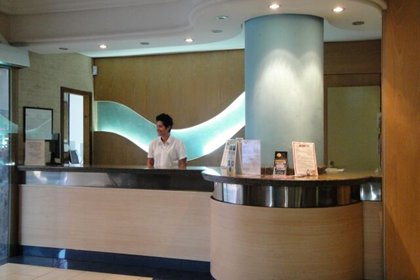 Hotel Overview
The Red Hotel by IBIZA FEELING is a real landmark in San Antonio and also an alternative as budget accommodation for your holidays, weekends or business trips if you are looking for a very central location. If you want to feel the heart beat of Ibiza, you can't get any closer to it than here, the strategic location on the promenade. At this prime waterfront site you see the marina with all its excursion boats and yachts or the beach of Es Regueró. The hotel is situated at the village entrance of San Antonio, arriving from Ibiza town on the main road C731 or arriving from San José (Sant Josep) on the main road PM803, just in front of the local tourist office.  
The hotel provides a room only or a B&B service (full English breakfast) so that you can enjoy a holiday within your budget and decide on how best to enjoy your leisure time. The 112 clean and comfortable rooms are spread over 6 floors and they were extensively refurbished in 2012. Now all rooms have air-conditioning, flat screen tv  and individual safety deposit-boxes (for hire). Furthermore there is a cafeteria and bar on the ground floor.
Getting to the hotel: 21 km Ibiza International Airport (IBZ) serves. Direct bus (nº 9) from the airport to San Antonio bus terminus (in summer season only) or connecting busses via Ibiza town (nº 10 & nº 3) in low season..
Local Tips: A taxi rank and the bus terminus are within a distance of 200 meters (219 yards) and the harbour is only a few minutes' walk away (750 meters/820 yards). And from there you can also watch the famous sunsets and nightlife. 
**Please note that this hotel is Adults Only**
FACILITIES:Hotel Facilities: An affordable hotel with the essentials from which to enjoy the delights of the island of Ibiza.
Food, drink and entertainment: Cafeteria and bar for breakfast and beverages.
Sport, games and activities: All guests are welcome to use the outdoor pool at a neighboring hotel free of charge, however, it is obligatory to buy and consume food or beverages at the pool bar. The pool is located only a one minute walk away from the entrance of the hotel and it is open usually from June to September. Beach is a 5 minutes walk.
Additional: Front Desk services, housekeeping, wired internet access in lobby, elevator, money exchange facility nearby, and public parking nearby at bus terminal.