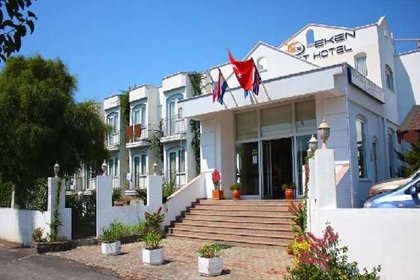 Hotel Overview
The 4 Star Eken Resort Hotel is located just 150 m from the beach in Gumbet on the Turkish Riviera. This is a terrific hotel for couples and families with 101 attractive guestrooms surrounded by lovely gardens near the beach and the sapphire blue Aegean Sea. Guests to the all-inclusive Eken Resort Hotel can explore the delightful villages nearby and experience real Turkish hospitality.
Bodrum Milas Airport is 45 km from the hotel.
Local Tips: Gumbet is a purpose-built resort geared towards younger holidaymakers, couples and families and is best suited to those who prefer beaches by day and bars and clubs by night Please Note ? Rates are exclusive to European Union passport holders only.