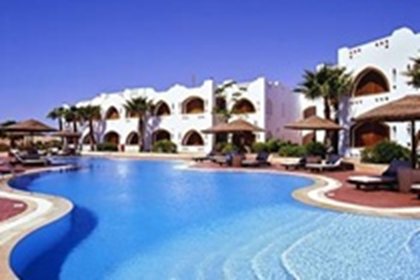 Hotel Overview
The Domina Oasis is made up of largely Moorish-style two-story buildings in an elevated position close to the resorts reception and shopping area. It is surrounded by luxurious vegetation that contrasts with the arid Sinai Desert, and guests can enjoy magnificent views of the entire bay and the island of Tiran. The resorts private marina has boats leaving daily to discover the great reefs of Tiran and Ras Mohammed National park, and there is an extensive dive center located just 10 meters from the marina. There are 451 spacious rooms with air conditioning and garden- or sea views.

Domina Oasis Hotel & Resort provides exceptional service, to ensure you have the best possible time at this beautiful beach resort - even going so far as to change the time! During the winter months, the Domina Oasis sets its clocks one hour ahead of local Egyptian time, so as to allow for an extra hour of sunshine. All operating hours within the hotel are based on Domina Time.

##Location
There is a golf course within 10 minutes of the hotel. Onsite guests can also enjoy entertainment, a wellness center, shops and a casino. The hotel is 2.5 miles from the center of Naama Bay and operates a minibus service for guests within the resort. Sharm is world famous for its coral and aquatic wildlife and is considered to be among the top five diving and snorkeling sites in the world.

##Accomodation
All have * bathroom/shower * WC * air conditioning * hairdryer * cable/satellite TV * balcony/terrace * telephone * (certain amenities may be payable locally)

Please note that a visitor's visa may be required if you travel outside the Sinai desert and if you go diving or sightseeing outside Sharm El Sheikh. The visa will cost 10 GBP.

##Eating and Drinking
The resort has numerous venues for wining and dining including international, Moroccan and Italian cuisine, a steakhouse and a seafood restaurant. Some restaurants are in the hotel and guests are welcome to dine at any of the Domina Coral Bay Resorts restaurants of which there are 11.
**All Inclusive**
Breakfast: Open daily from 07:00 until 10:30
Coral restaurant: Offers you a full buffet and wide choice of breakfast items including a live cooking station where you can choose your favorite eggs
Drinks during breakfast: Tea, coffee, juice and water
Lunch: Open daily from 13:00 until 15:00
Coral restaurant: International buffet with daily changing cuisine with live pasta station and exciting food promotions
Drinks during lunch: Soft drinks, juices, local beer and wine
Dinner: Open daily from 19:00 until 22:30
Coral restaurant: International Buffet with daily different cuisine, live cooking station and exciting food promotions
Drinks during dinner: Soft drinks, juices, local beer and wine

All-inclusive points: 5 conveniently located all inclusive points;
On the Main Beach (open daily from 10.00 till sunset)
Sultan Beach Bar (open daily from 10.00 till sunset)
Main Pool Bar (open daily from 10.00 till sunset)
Pool Bar 55 (open daily from 10.00 till sunset)
Bahia Bar (open daily from 10.00 till 00.00)

Beverages including: soft drinks, hot beverages, juices, water and local alcoholic drinks.
From 18.00 till 00.00 additional local spirits will be served
Afternoon snacks: fruit, cakes, cookies and ice cream will be served daily from 15:00 – 17:00 in all bars except Pool 55
Mini Bar / Room-service: The Mini Bar in your room contains one large bottle of mineral water and two soft drinks 0.33l upon arrival inclusive. Room service is available 24 hours against payment
Beverages details:
Soft drinks: Draft Coca Cola, Fanta, Sprite, Juices and Mineral Water
Local Alcoholic drinks: Local draft beer, local wine
Hot Beverages*: American Coffee and Tea
Local spirits*: Vodka, Gin, Rum and Whisky
* Hot Beverages and Local Spirits are not included during meals at Lunch and Dinner
Beach & Pool: Use of Main Beach area, Main Pool and Pool 55
Special discounts: 20% discount on Food and Local beverages in all our restaurants. A prior reservation is required for Plaisirs restaurant
Internet access: Free Wi-Fi Internet access available in all public areas. Internet Point by Mosaique
Café'
* Kindly note that the timing of the outlets can vary according to season and weather conditions

##Swimming Pools
There are two onsite swimming pools.