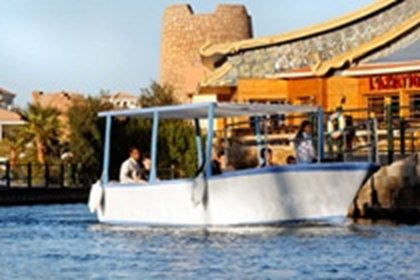 Hotel Overview
**Winner of TripAdvisor Certificate of Excellence 2013 and Zoover Award 2013**

The Dana Beach Resort is a unique five-star beachfront property located in a superb spot overlooking the Red Sea, and only a 20 minute drive from Hurghada International Airport and downtown Hurghada. The hotel even operates a shuttle bus to the downtown area.

Surrounded by lush gardens and sparkling pools and lagoons, the Dana Beach Resort has 734 rooms including double rooms, standard rooms, superior rooms, family rooms and suites in low rise three level buildings.

An almost endless choice of activities and facilities await you at the Dana Beach Hurghada. Swimming, diving and surfing are among the most popular water sports or you can just kick back and relax on the hotels private beach or at one of the inviting swimming pools.

There is also horseback riding, camel riding, handball, basketball, volleyball, tennis, mini golf, pedal boats, aerobics, water gymnastics, water polo, billiard, boccia and darts and for those who love dancing, the resort offers belly dance lessons.

On those less-adventurous days you can enjoy a sauna, steam bath, Jacuzzi or a massage treatment in the spa or work-out on the latest fitness machines at the fitness centre. If a quiet spot of relaxation is required then there is a reading corner in the lobby.

After relaxing on the beach in the sun during the day there is the Dana Beach Resort's fabulous night life to enjoy which includes a wide variety of bars and live entertainment – don't expect too many early nights!

Younger visitors are treated as special guests from the moment they arrive until the time to depart at the Dana Beach Resort. The resort features special facilities for them, such as a playground and children swimming pools and there is a kids club offering a fun-filled children's programs to keep them entertained. Babysitting services are also available upon request (with extra charge).

**Winner of HolidayCheck Award 2013!**

##Accomodation
All have - bathroom/shower – WC – satellite TV - telephone - air conditioning - minibar - hairdryer - safe deposit box - (certain amenities may be payable locally)

##Eating and Drinking
The hotel has four restaurants, nine bars and a disco. Buffet style breakfast, lunch and dinner is available at the La clef de l'orient Restaurant between 7am and 10am, 12.30pm to 2.30pm and 6.30pm to 9.30pm. The restaurant serves Egyptian and international specialties and also features a kid's corner from 6.30pm and 9.30pm. For Mediterranean cuisine buffet style, there is the Castello Restaurant which also opens according the hours above and has a kid's corner at dinner time. The Don Camello Restaurant is the Dana Beach's Italian offering and opens twice for dinner – firstly between 6.30pm and 9.30pm and then again from 10pm to midnight (for late dinner). Last but not least is the Zum Kaiser German Restaurant which opens between 7am and 10am for breakfast and then from 10am to 11am for late breakfast. Dinner is also served at the Zum Kaiser from 6.30pm to 9.30pm. For snacks try Le Rendez Vous, open daily from 10am to midnight, the snack bar serves pizza, sandwiches and pasta from 3pm to 5pm, ice cream for kids from midday to 8pm and all kinds of drinks throughout the day. The best place to watch the sunset is at Caesar's Terrace Bar which is open between 10am and 5pm and if you plan on spending your day at the beach there is the Red Sea Bar (beach bar) which offers a wide variety of drinks, delicious snacks and specialties from the grill. The bar opens from 10am till 5pm and serves snacks from 12.30pm to 2.30pm whilst teatime is from 3pm to 5pm. The opportunities for refreshment continue with the Island Bar
open from 10am to 5pm (wintertime) and 10am to midnight (summertime), and the 24 hour lobby piano bar (all inclusive between 10am and midnight only). There is a pool bar between 10am and 5pm, a sunset roof bar from midday to 5pm (wintertime) and midday to midnight (summertime), an indoor bar beside the Castello Restaurant open between 6pm and midnight and the Bella Bar where you can enjoy live jazz from 9pm to midnight. Finally, the Dana Beach is home to the Havana Club Disco where you can dance the night away. Open from 9pm until the early morning, guests enjoy free entrance although all drinks are chargeable.

The hotels all inclusive programme includes breakfast, lunch, snacks and dinner, all local alcoholic beers, wines and spirits and soft drinks, tea and coffee from 10am until midnight , ice cream for children and one soft drink and one bottle of mineral water per day in the minibar. Premium drinks, drinks after midnight in the bar and all drinks in the Havana Club are not included in the All Inclusive option.

##Swimming Pools
The hotel has three swimming pools (two of which are heated in winter) and a children's pool. Free sunbeds and towels are available around the swimming pools and on the beach.