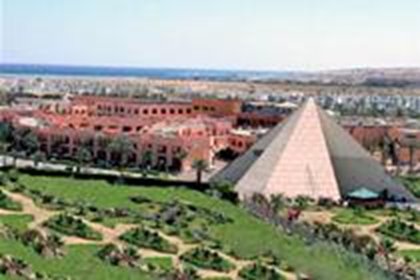 Hotel Overview
The hotel is part of the Golden 5 Resort and is close to the entrance with the main hotel between it and the beach. The resort is on the Red Sea, approximately 7 miles or a 15 minute drive from the centre of Hurghada. The Red Sea offers fantastic windsurfing, sailing, deep-sea fishing, swimming, snorkeling and especially diving. The area is world famous for its underwater plant and animal life. The warm water is ideal for many varieties of rare fish and coral reefs.

##Location
The Club Golden 5 Hotel is located in the tourist area of Hurghada Beach and combines the charm of the past with the luxury comforts of the present. Hurghada has an exotic climate and temperatures that rival the Canary Islands. The town centre has plenty of bazaars and mosques and a lively atmosphere.

##Accomodation
Standard rooms sleep 3 adults or 2 adults and 2 children
All have * bathroom/shower * WC * telephone * TV * air conditioning * fridge * safe * balcony/terrace * (certain amenities may be payable locally)

##Eating and Drinking
There are many outlets for eating and drinking within the complex including restaurants, bars and cafes. There is a main restaurant, a 24 hour cafe and bar and a billiard bar among others. The hotel operates an All Inclusive option which includes breakfast between 7am and 10am, lunch from midday until 3pm and dinner from 7pm until 10pm, all buffet style, served in the Panorama restaurant of the Al Mass hotel or the Red Sea Resturant of Golden 5. During meals soft drinks, mineral water, local hard liqueur, local beer and wine are offered. Guests can also have late breakfast (10am to 11am) and cold snacks and mini pizza (11am to midday). Delicious snacks such as pizza, pasta, BBQ, potatoes and salads are offered daily at the beach bar between noon and 3pm. One scoop of ice cream is available from 1pm to 3pm at the pool areas. Teatime is from 3pm to 5pm. Locally produced alcoholic and non-alcoholic drinks like wine, beer, spirits (whisky, gin, vodka, rum, brandy), soft drinks, juice, coffee, tea and mineral water are available at the stylish Sinai Bar from 10am to midnight, the beach bar between 10am and 6pm and at the Diamond pool bar from 10am to 6pm. In-room mini bars are replenished daily with a soft drink, mineral water and a juice (per guest).

##Swimming Pools
The hotels main feature is large swimming pool connected by waterfall from the children`s pool and also another large pool with a snack bar, restaurant and waterfall in the centre.