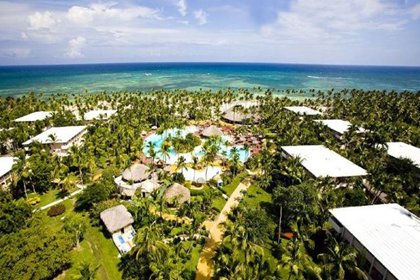 Hotel Overview
 
Catalonia Punta Cana is a magnificent hotel resort with private, white sandy beaches, crystalline Caribbean waters, palm trees lining the coast and abundant vegetation throughout the complex. A beautiful resort for an exquisite family holiday. There are 9 & 18 hole golf courses and a casino at this resort and coral reefs along the beach allow guests to enjoy the rich marine life of the Caribbean Sea. Playa Bavaro (Punta Cana), is one of the best beach areas in the Dominican Republic - surrender to the charm of this area and get ready for an extraordinary vacation.
 
Getting to the hotel: The complex is situated 20 km from the International Airport of Punta Cana.  
 
Local Tips: The resort is 47 km from the most important urban centre of the province (Higüey).
 
Rates are exclusive to European Union passport holders only. FACILITIES: 
Catalonia Punta Cana offers many sporting and leisure activities and the possibility of savouring the exquisite and varied cuisine in its many restaurants.
 
Food, drink and entertainment: The main restaurant ?Gran Caribe? is buffet style and is surrounded by lakes and lush vegetation. Specialty restaurants: ?Mariachi? Mexican restaurant, ?Rodeo? Steak House, ?Mikado? Japanese Teppanyaki, ?La Toscana? Italian cuisine, Pizzeria Sorrento located by the swimming pool and ?Bretonne? Ices & Crêpes cream stall. Beach restaurant, open air theatre, the Casino, 5 bars and a Disco.
 
Sports, games and activities: 9 hole and 18 hole golf course, Caribe Club House located at the 18-hole golf course, a large swimming pool with islands, spout, bridges and Jacuzzi, a pool-bar & wet bar, tennis courts, paddle, petanca, darts, billiards, biking, archery, beachball, volleyball, football, water polo, basketball, table tennis, the Spa with gym, sauna, and massage. Water sports include windsurfing, snorkeling, scuba diving, canoeing, sailing, kayaks, waterskiing, and catamarans. Day and night-time activities led by professionals; aerobics, keep fit, water gym, nightly shows, live music, bike rides, ?merengue and native painting courses.
The hotel golf course, Catalonia Caribe in Punta Cana has become part of the all inclusive concept. Paying only the green fees for a round of golf, clients are now able to enjoy food and drinks offered at the golf course at no extra cost. Clients that have only paid for the golf cart due to previous arrangements will be charged a small extra fee of USD 25.00 per person in order to enjoy the all inclusive concept of the golf course. In case those clients decide not to pay the supplement they will still be able to use the golf installations but will not receive all inclusive benefits as previously described.The all inclusive supplement for raiders ( adult and children companion ) is USD 25.00 per adultand USD 10.00 per child ages 7 ? 12.
 
For the kids: Mini-club, mini-disco and a separate childrens swimming pool.
 
Additional: There is a shopping centre with photo shop, beauty salon, hairdresser, supermarket, and gift shops. Free WiFi internet access, Internet corner and medical service.