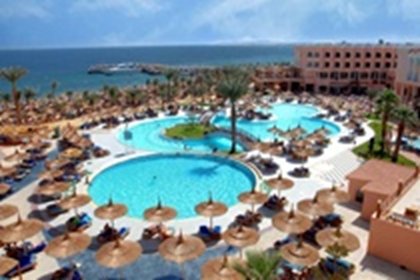 Hotel Overview
Located right by the beach along the famous Red Sea where guests can enjoy wonderful summer weather all year round is the Beach Albatros Resort, a quiet and luxurious hideaway place where you can truly spend a relaxing holiday. A brilliant choice for couples, families and groups, you will find there are many ways to enjoy your holiday here, whether soaking up the sun on the beaches, trying out the fantastic water sports such as diving in the Red Sea or taking a trip to Hurghada for even more shops and entertainment.

This beautiful and all-inclusive 5-star resort offers a huge variety of activities and facilities, all designed to create a truly enjoyable and memorable experience, and the 681 varied rooms, including bungalows and suites, will ensure you remain comfortable during your stay. While staying at this wonderful resort you will find there are numerous ways to stay active and entertained, with a variety of outdoor activities to try, including tennis courts, a basketball court, beach volleyball, water polo, mini golf, table tennis and even more to try near the resort such as horse riding, excursions and camel riding. Alternatively if you wish to stay fit during your stay here, there is also a fitness centre with a well-equipped fitness room and for those simply looking to unwind there are also SPA facilities including a Jacuzzi, sauna and a steam bath/room. To help ensure that the resort's younger guests are not left out, there are also two separate pools for children, along with a playground and a kids' club providing plenty of fun and games to help ensure they are never bored during the day. In the evenings the fun doesn't stop either with the resort's animation programme providing hours of entertainment with a variety of live shows and music that everyone can enjoy. This impressive resort also includes several restaurants and bars, a shopping arcade and you will find the friendly and professional staff able to help with any request as well as provide additional services including a shuttle service to downtown, laundry/dry cleaning facilities, car rental and 24-hour room service.

**Winner of HolidayCheck Award 2013!**

##Location
The Red Sea coast is one of the best places in the world for water activities, with some fantastic opportunities for diving to see the rich sea life. Many other water activities are available, ranging from windsurfing and surfing to sailing and rafting. The area provides many excellent opportunities for a thrilling holiday. About 12 kilometres away you can find the popular resort city of Hurghada with its fabulous opportunities for shopping and eating with many local shops and seafood restaurants along with a larger commercial centre that make for some fantastic shopping experiences and days out that the whole family can enjoy.

##Accomodation
This impressive resort boasts a wide range of accommodation with a total of 681 rooms ranging from standard rooms and family rooms to bungalows and suites that are perfect for families and groups. Bungalows are ideally suited for up to five people and feature separate living rooms, bedrooms, bathrooms, lounges and also kitchenettes. You will find all the rooms, suites and bungalows at the resort feature all modern amenities to help ensure your stay is as comfortable as possible, including air conditioning, telephone, satellite TV, minibar, shower, hairdryer, balcony/terrace and luxury shower kit/toiletries.

##Eating and Drinking
There is a wonderful choice of dining options at the resort with several restaurants and bars offering cuisine to suit almost any taste. The main restaurant is the Al Kasr Restaurant, a buffet restaurant that is open all day for breakfast, lunch and dinner and serves a wide range of Egyptian and international dishes. Also for those looking for a pre-midnight snack, the restaurant is open from 10:30pm till midnight with just what you need.

Other dining choices at the resort include the Casablanca Restaurant with an even larger choice of international dishes to choose from, with an extensive breakfast buffet available from 8am to 10am, then the lunch buffet from 12:30pm to 2:30pm and a dinner buffet served between 6:30pm and 9pm.
Also for a different experience you can try the à la carte restaurant, the Antico Forno, which offers a variety of different themes including Italian cuisine, BBQ, seafood and oriental specialties.
Alternatively there is also the Le Coq D'or Restaurant, where you can enjoy a delicious breakfast, lunch snacks, oriental drinks and dinner, all while overlooking the pool.

There are also several bars providing a variety of different atmospheres to relax and enjoy yourself, including the Omar Sharif Bar (lobby bar), a beach bar, a traditional pub-style bar with karaoke and a disco/bar.

##Swimming Pools
There are a total of four swimming pools at the Beach Albatros Resort, including the large outdoor pool, an indoor pool as part of the SPA and wellness centre, and also two pools just for children. To help you make the most of the sun while at the resort there are also free sunbeds and towels provided by all the pools and to help keep you going the tropical pool bar is open from 10am till 5pm serving everything from fruit juices to cocktails.