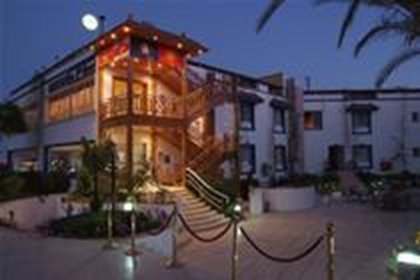 Hotel Overview
The Falcon Naama Blue Hotel is located on the southern end of Naama Bay in Sharm El Sheikh on the Red Sea coast of Egypt. It is ideally located just a short walk from the beaches in the bay and within easy reach of the resort centre in Sharm El Sheikh. The Hotel in Sharm is set in the hills away and boasts a relaxing and quiet position, making it an ideal hotel choice for those after a chilled out holiday to Sharm El Sheikh with all the amenities of the resort within easy reach.

This 3 star all-inclusive hotel in Egypt is just 5 miles from the airport, so it should only take 10 minutes to transfer to your holiday destination in Sharm. Falcon Naama Blue Hotel has 78 standard rooms and 12 superior guest rooms all with air conditioning and views of the gardens or the pool. Onsite there are 2 heated swimming pools, one of which is for children. There is even a dive centre at the hotel, which is ideal for learning how to dive on your holiday in Sharm El Sheikh. There is also 24 hr access for those nights when you want to venture out in to the resort to see what the nightlife has to offer. So book your holiday to the Falcon Naama Blue Hotel in Sharm El Sheikh now – you won't be disappointed!

Sharm El Sheikh is diving heaven with a beautiful coral reef and a fascinating under water world waiting to be discovered. With a lively nightlife, sandy beaches, lush warm waters, plenty of water sports to try, boat trips, excursions and all year round sunshine – where else would you want to be on holiday this year than on a holiday to Sharm El Sheikh.

##Location
The Falcon Naama Blue Hotel, Sharm El Sheikh, is set back against the hills - just a short walk to the beach - with fantastic views of Naama Bay and the Red sea.

Falcon Naama Blue Hotel is ideal for divers - or for those that want to have a go, as it has its own dive centre. Take this opportunity to explore the beautiful Red Sea coastline and its magical coral reef.

Falcon Naama Blue Hotel is also just 200 metres from the shops for those of you who want a bit of retail therapy or to try your hand at bartering at a local bazaar.

This region of Sharm El Sheikh offers up plenty of water sport facilities and even camel rides in the desert. For a great cultural experience, visit St Catherine's Monastery or for those of you who want to travel a bit further, head to Luxor to see the breath-taking Luxor and Karnak temples or head to Cairo and see the famous pyramids of Giza.

##Accomodation
All have - bathroom/shower - WC - air conditioning - satellite TV - telephone - safe - hairdryer - (certain amenities may be payable locally)

Please note that a visitor's visa may be required if you travel outside the Sinai desert and if you go diving or sightseeing outside Sharm El Sheikh. The visa will cost 10 GBP.

Please note: There are buliding works at a hotel next to the Falcon Naama Blue Hotel, the works consist of finalising cosmetic works and therefore should be of little to no disturbance to the guests.

##Eating and Drinking
The hotel has a main restaurant serving breakfast and dinner and a specialist outdoor restaurant specializing in Mongolian B.B.Q. There is also a main bar known as the '1st Floor Bar' which offers a contemporary, cool and relaxing atmosphere (and shows live sports) and a roof top providing a varied selection of refreshments with stunning panoramic views of Naama Bay and the sea (and occasional live music). Drinks around the pool can be obtained at the pool bar.


The hotel operates an All-Inclusive programme. The all-inclusive package at the Falcon Naama Blue Hotel includes:

The BREAKFAST BUFFET from 07:00 am to 10:00 am, LUNCH BUFFET based on pasta, salads, snacks and desserts from 01:00 pm to 03:00 pm, COFFEE BREAK (Tea and coffee only) from 05:00 to 06:00 pm; and DINNER BUFFET from 07:00 pm to 09:00 pm.

The beverage serving is based on local beer, local alcohol (Whiskey, Vodka, Rum and Gin), soft drinks (Cola, Sprite and Fanta), tea, coffee and water from dispenser by glass.

All beverages are served at the pool bar counter from 10:00 am to 05:00 pm, main restaurant and the 1st floor bar counter from 05:00 pm to 6:00 pm for the COFFEE BREAK ONLY and from 06:00pm until 10:00pm.

Some services and beverage are not included within the ALL-INCLUSIVE package, details as follow:


• Room service is not included
• Mini bar service is not included
• Fresh juices are not included
• Wine is not included

PLEASE NOTE:

•Drinks are served in plastic cups in all areas

•Any consumption based on full bottles must be paid in cash

•Coffee and tea only at the 1st floor bar

•Christmas and New Year gala dinner is not inclusive of beverage and all bars at the Falcon Naama Blue Hotel will stop serving all-inclusive beverage at 05:00 pm.

•All inclusive packages valid until 12:00 (noon) at the day of departure

•All inclusive is available for you only and not allowed to invite anyone else

•Only one drink per order

OFFERS:

•Guests preferring to enjoy an 'A la Carte' lunch at the swimming pool bar will receive a 30% discount

•Guests preferring to enjoy an 'A la Carte' dinner at the 1st Floor Bar or Sutra Lounge Mongolian BBQ will receive a 30% discount

•Guests wanting to upgrade from all-inclusive package to deluxe all-inclusive package will pay only 07.00 $ per day.

The deluxe all-inclusive has the benefit of: one free special lunch at the swimming pool, two times free laundry services and one hour billiard.

•For reservations you must contact the reception.

##Swimming Pools
The hotel has two outdoor heated swimming pools, one of which is for children. For your comfort and convenience, towels, chairs and loungers are available and there is a pool bar.