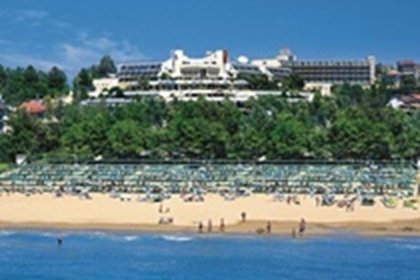 Hotel Overview
The Side Star Elegance opened in 1987 and was the first hotel in Side. Situated just under two miles from the centre of Side where you will find plenty of shops, bars and restaurants, the beachfront Side Star Elegance has 327 spacious and comfortable guestrooms, as well as varied facilities and activities for all ages.

During the day you can relax in either the indoor pool with its Jacuzzi, or one of the outdoor swimming pools. The main pool has two water slides and there is also a separate section for children to play in. There is a fitness centre and three tennis courts onsite or you can enjoy a game of table tennis, billiards or beach volleyball.

There is a sauna and massage facilities at the Side Star Elegance and its activity programme is full and varied with sports between 10am and 5.30pm, a show six times a week and a disco. There are also activities for children, including a mini-club for the younger guests and a junior club for the slightly older children. The little ones will also enjoy the daily mini disco.

Sun beds, mattresses, sun umbrellas and towels are provided free of charge at the pool and on the beach, and after a few hours soaking up the Turkish sun you can browse the Asteria's shopping options which includes a jewellery store, leather goods and a mini-market.

##Accomodation
All have - bathroom/shower - WC – balcony/terrace – TV - safe - mini-bar - central air-conditioning - hairdryer - slippers (certain amenities may be payable locally)

##Eating and Drinking
Guests can make use of the main restaurant, as well as four a la carte restaurants serving the likes of seafood and Turkish, Chinese and Italian cuisine.

**ALL-INCLUSIVE**
Breakfast buffet: 7.00 - 10.00
Late breakfast: 10.00 - 11.00
Lunch: 12.30 - 14.00
Dinner: 19.00 - 21.30
A la carte restaurants: 19.00 - 21.00
Afternoon snack: 12.30 - 15.00
Tea, coffee, cookies: 11.00 - 17.00
Gozleme: 11.00 - 17.00
Night snack: 23.00 - 24.00

There are ten bars/cafes around the hotel, one of which will be open 24 hours a day, serving a range of alcoholic and non-alcoholic drinks.

##Swimming Pools
The hotel has two swimming pools, one indoor and one outdoor. The indoor pool is also heated in the winter season.