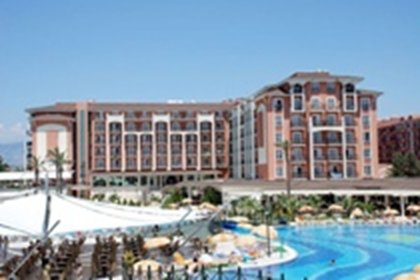 Hotel Overview
The Sunis Elita Beach Resort opened in 2004 and is situated occupies an attractive beachfront location in Turkey, approximately ten miles from the resort of Manavgat. This large hotel has a total of 583 guestrooms and an excellent selection of services and activities for all age groups to enjoy. The Sunis Elita Beach Resort has a selection of swimming pools for different purposes including a large main pool, a pool with three water slides for adults, a small outdoor children's pool, a relaxation pool, and in the winter season, a heated indoor pool with a section for children.

The private pebble and sand beach has its own pier and loungers, parasols and mattresses are available free of charge. The onsite fitness centre opens daily from 10am to 8pm and there are various daytime activities which guests are welcome to join in with such as aerobics, gymnastics, archery and beach and pool volleyball. To aid relaxation, the Sunis Elita Beach Resort has its own sauna, Turkish bath and massage facilities whilst younger guests will love the mini club that operates for 4 to 11 year olds and the junior club for 12 to 16 year olds (operating from 15 June to 31 August). Wi-Fi internet is available in the lobby and the pool bar area and the hotel has a cinema and offers dancing courses, language lessons and live music and entertainment several times a week.

Guests of the Sunis Elita Beach Resort Turkey can but buy those room essentials from the hotels own mini market or browse the boutique shops and jewellery store for presents and souvenirs. There is a main restaurant where you can enjoy breakfast, lunch, dinner and late night snacks, and a choice of three a la carte restaurants serving Turkish, Italian or seafood at dinner time. Refreshments are widely available throughout the day and night from the 24 hour lobby bar, pool bar and beach bar and also several times a week in the disco bar.

##Accomodation
All have - bathroom/shower - WC – balcony – TV – telephone - hairdryer - central air-conditioning - mini-bar - safety-box - slippers (certain amenities may be payable locally)

##Eating and Drinking
**ALL INCLUSIVE**

Breakfast: (Buffet) 07.00-10.00
Breakfast buffet: (Limited) 10.00-11.00
Lunch: 12.30-14.00
Dinner: 19.00-21.30
Dinner (A la Carte): 19.00-21.00
Afternoon snack: 12.30-15.30
Gozleme: 13.00 - 16.00
Cake, cookies and ice cream: 11.00 - 17.00
Night snacks: 23.00-24.00

Bars:
Lobby bar: 24 hours
Lobby bar 2: 09.00-24.00
Pool bar: 09.00-24.00
Beach bar: 09.00-18.00
Villa bar: 09.00-18.00
Vitamin bar: 09.00-18.00
Disco bar: 23.30-02.00

##Swimming Pools
The hotel has a main swimming pool, a water slide pool (with three water slides for adults), a children's pool and a relaxation pool. During the winter season the hotel opens its heated indoor pool which has a separate section for children. Spacious terraces surround the pool area and loungers parasols and towels are provided free of charge. The beach is also a popular spot for sunbathing and swimming and there is a jetty for water sports.