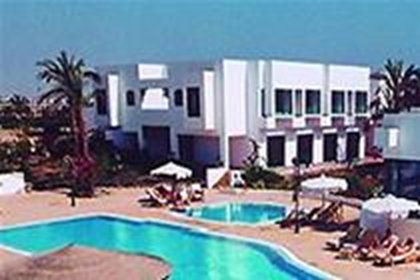 Hotel Overview
Egypt's All Seasons Badawia Resort, in Sharm El Sheikh, is a comfortable hotel located on Om el Seid Hill, approximately four miles from Naama Bay and just over a mile from the Old Town of Sharm El Sheikh.

The All Seasons Badawia Hotel is small low rise resort that overlooks a central pool area and sun terrace. The nearest beach is the Ras Um El Sid which has excellent watersport facilities and is just five minutes away on the All Seasons Badawia Hotel's air conditioned shuttle bus. Here, from the private beach and dive centre, guests have the opportunity to explore the marine life and coral reefs situated just offshore, which are considered to be among the best in the world.

Inside the hotel there's a good range of facilities on offer for guests to make use of including a bookshop, a barbershop and beauty salon, a news-stand and video games. Parents will also appreciate the babysitting service if they fancy some time off to explore the area.

Guests of the All Seasons Badawia Hotel will be able to use the hotel's on-site and beachfront facilities whilst also making use of the surrounding area's facilities. Here guests can enjoy a huge variety of restaurants and shops, live shows and several casinos and for a true Egyptian experience, this area has plenty of Arab bazaars, local shops and markets selling gold, leather, carpets, glass, brass, spices and souvenirs.

*Official star rating: 3**

##Location
The nearest beach to the All Seasons Badawia Resort is the Ras Um El Sid - offering excellent watersport facilities and guaranteeing an enjoyable day by the beach. The All Seasons Badawia Resort runs a free shuttle service to the beach, so no need to worry about rallying the whole family for a lengthy walk. The Aqaba Gulf is also a short bus ride from the All Seasons Badawia Hotel, offering the chance to see exotic marine life and coral reefs - making it one of the best snorkelling and diving areas in the World

You're guaranteed to experience some authentic culture here. The hotel is in close proximity to Arab bazaars, coffee houses and excellent cafes.

##Accomodation
All rooms at the All Seasons Badawia Hotel have: bathroom/shower - WC - TV - telephone - air conditioning

The ground floor rooms have a terrace with a pool view but the first floor rooms do not have a balcony - there are large windows providing a spacious feel.

Kindly note that there are ramps installed in the premises leading to and from the pool , room, restaurant and reception.
Safe box is available behind the reception free of charge.

Please note that a visitor's visa may be required if you travel outside the Sinai desert and if you go diving or sightseeing outside Sharm El Sheikh. The visa will cost 10 GBP.

##Eating and Drinking
The hotel has three bars and - the Camel Bar, Splash Bar and The Bedouin Tent - and a restaurant.

**ALL INCLUSIVE**

MEALS
Breakfast buffet: 07.00 - 10.00
Light lunch buffet: 13.00 - 15.00
Dinner buffet: 19.00 - 21.00
Snacks: 16.00 - 17.00

DRINKS
Splash Bar (Served from 10:00-22:00)
Camel Bar (Served from 18:00-22:00) Bar stays open until 04:00 am
Bedouin Tent (Open All Day)
All inclusive drinks are served from 10.00 - 22.00

Please note: drinks are served in plastic cups in all areas, any consumption based on full bottles will be paid cash, room service is not included in the all-inclusive concept, the mini bar service is available upon request. Fresh fruit juice is not included but is available at an extra charge. The All Inclusive package is valid until 12.00 on the day of departure.

##Swimming Pools
The All Seasons Badawia Resort has two outdoor swimming pools, one for adults and one for children.